Posted by: admin | Posted on: July 28th, 2014 | 0 Comments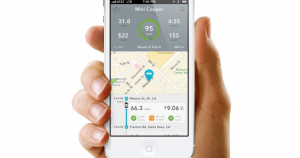 A new app is hoping to do for driving what the iPod did for music. Called "Automatic", the app uses a Bluetooth transmitter which is easily installed into the diagnostics port on the users car.
Once up and running, the app records your driving routes and style, calculating your MPG and marking points on the map where you drove less efficiently. A score is given for each journey, with points being deducted for harsh breaking and rapid acceleration where the fuel consumption is greater than it would be with more moderate inputs. The app claims to be more accurate at recording your MPG then most in car systems, with the added bonus of working with cars that do not have their own trip computer. Taking things a step further, the app will monitor local petrol prices and work out how much you are spending on your drives.
Other great features of the app include automatically contacting the emergency services with your location if it detects a crash and storing your parking position so you can easily find your car when you return. The killer feature for owners of complicated cars may well be the diagnostics tool. When the check engine line is activated, the app automatically reads the diagnostics codes from the cars computer and displays the problem in plain English. In many cases, the app is able to suggest simple procedures to fix the problem before directing the driver to the nearest garage. The makers of the app are claiming that it supports almost all cars built after 1996 so there is a good chance your vehicle will be supported
Currently the app is only available to buy in the US, where it retails along with the adapter for $99. However, the makers are hoping to roll out a UK launch later in the year so be sure to keep an eye out!